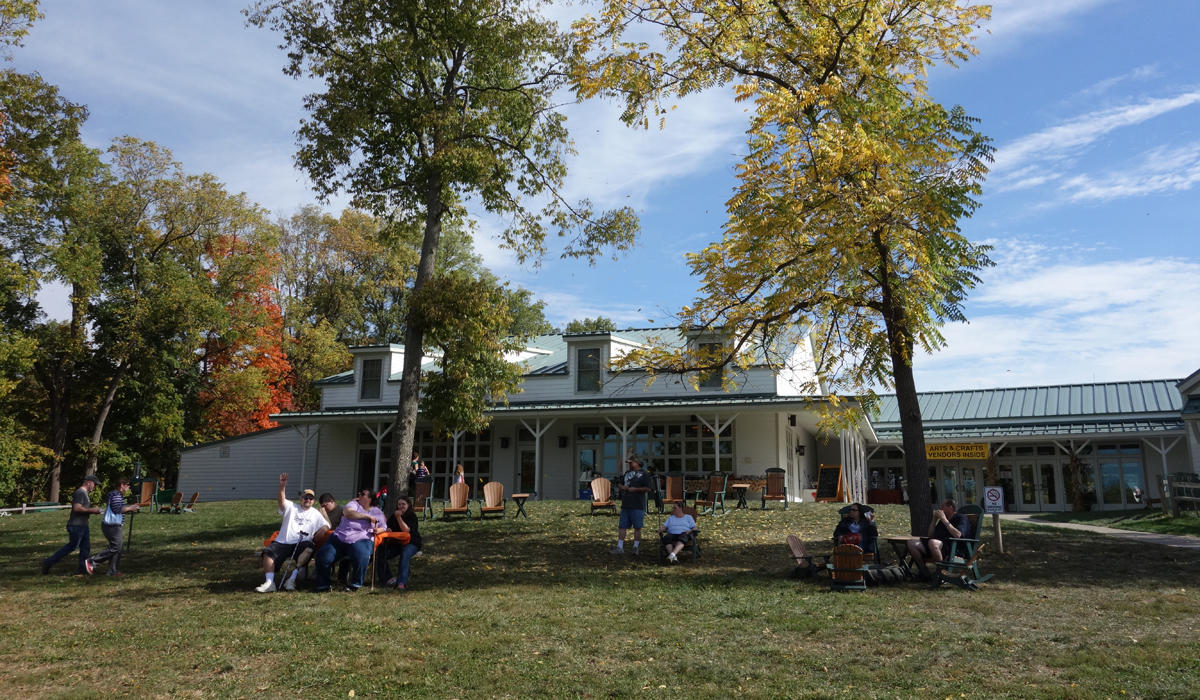 Aullwood Audubon Center and Farm Dayton Ohio
Aullwood Audubon Center and Farm is an outdoor nature center and farm dedicated to educating, preserving and highlighting the beauty and necessity of nature and agriculture in the Dayton area. The Aullwood Audubon Center and Farm features several different visitor centers, including a sustainable farm as well as an expansive nature center that includes prairies, meadows, ponds, streams, and woods filled with natural wildlife and greenery.
Aullwood Audubon Center and Farm was founded by Marie Aull, a dedicated philanthropist who created the Natural Audubon Society's nature center--the first of its kind in the entire Midwest. Aull was dedicated to preserving plants and animals and wanted to help educate everyone, from children to adults, in the importance of preserving and maintaining natural lands that are essential to the ecological environment of the Midwest. Since its original founding, Aullwood expanded from a nature preserve to include numerous acres of natural land, the farm, and a visitor center which was build in 2000. Marie Aull herself passed away in 2002 at the age of 105; she lived to see her initial nature center expand into the extremely popular and essential natural sanctuary that it is today.
What to Do at Allwood
Visitors to Aullwood can visit two primary locations: the Aullwood Nature Center and Aullwood Farm. These two locations are connected by 6 miles of beautiful walking trails that cross through the 200 acre natural sanctuary on site. The trails will allow visitors to see everything from stunning woodlands to creeks, wildflower gardens, and much more. Visitors can choose to take the scenic route and walk the trails between the locations or take a car which will take about 5 minutes driving time. Purchasing admission to one site includes admission to the second site, so visitors will only need to buy admission once.
Aullwood Audubon Center and Farm is open from Monday through Saturday, 9 AM to 5 PM; and on Sunday from 1 PM to 5 PM. Aullwood Audubon Center and Farm is closed on most school holidays.
Aullwood Audubon Center and Farm
1000 Aullwood Rd, Dayton, OH 45414
VPFG+92 Dayton, Jefferson Township, OH
http://aullwood.audubon.org/
(937) 890-7360
Admission to Aullwood Audubon Center and Farm is free for children 2 and under; $5 for children ages 3 to 11; $7 for everyone over 12. Visitors who own membership to the Friends of Aullwood and/or the Natural Audubon Society will receive free admission. Some special events held at the Aullwood Audubon Center and Farm may require an additional cost, so visitors should make sure before they attend special events and exhibitions that they know the total cost.
The Aullwood Audubon Center and Farm is in Montgomery County
Parking at the Aullwood Farm and Aullwood Center locations is free during regular business hours. Guests may bring dogs on non-retractable leashes. Guests are forbidden from smoking on the property, including the trails; this includes electronic cigarettes/e-cigarettes and vapes. Guests are allowed to photograph or take video during regular business hours for both personal and commercial purposes; however, everyone (including photographers) must pay admission in order to be on site. Guests taking photography are asked not to inconvenience other patrons and some special events may not permit open photography.